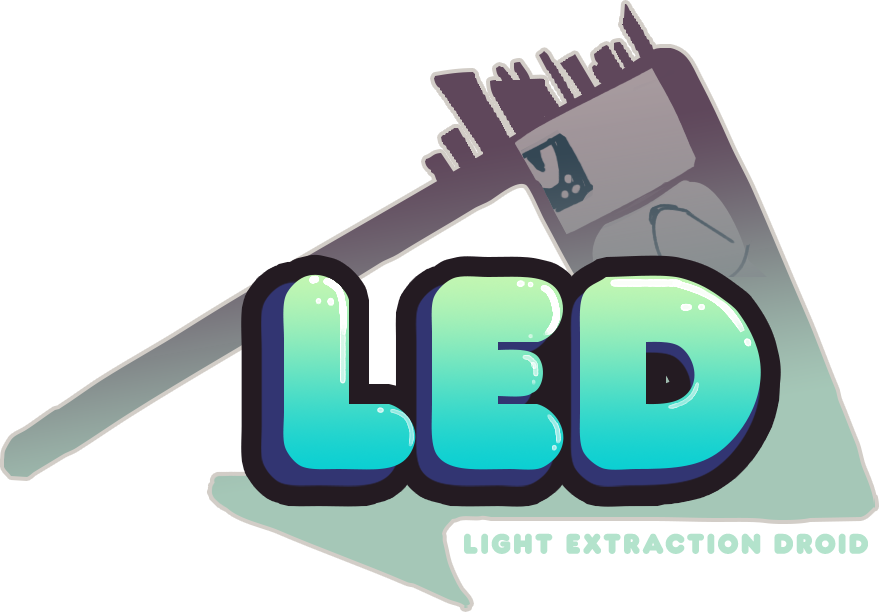 LED: Light Extraction Droid
LED: Light Extraction Droid, is a top-down 2D rogue-like twin-stick shooter where you play as Merlin, a futuristic robot detective, attempting to return the stolen light to the citizens of Light City.
Wander through a randomly generated level, defeating members of the Lightbulb Gang, collecting upgrades and avoiding environmental hazards.
Find and collect the three Key Cards to help restore the light to Light City.
As this is a Full release build, Quasar Monkeys doesn't have any intention to continue development - If you encounter bugs or would like to give feedback, you're welcome to reach out to one of the Repo Contributors or send an email to: quasarmonkeys@gmail.com
This game can be played on controller or mouse & keyboard. Controls are listed in-game.
The browser is able to play the Release Demo, for the full intended experience, download and play the Release Version for Windows.
---------------------------------------------------------------------------------------------
Credits:
LED: Light Extraction Droid developed by Quasar Monkeys
Animator
Melanie Avent
Art Director
Chae-eun Gim
Creative Director | Level Designer
Lachlan McCaskill
Narrative Designer | Game Designer
Kieran Freame
Music Composer
Joshua Kaneis
Co-Lead Programmer
Andrew Giannakis
Co-Lead Programmer
Nathan Roberts
Asset Programmer
Basil Christofis
Producer | QA Programmer
Jarryd Worland
Quasar Monkeys acknowledges that this game was developed on the stolen lands of the Wurundjeri and Bunurong Peoples, members of the Kulin Nations. We pay our respects to their elders, past and present. Sovereignty was never ceded.

---------------------------------------------------------------------------------------------

Thank you to the team for their continuing efforts over the last 9 months. This is intended to be the final version of the game with no further releases. If you've liked what you've seen, be sure to reach out to the Quasar Monkeys Twitter.
LED: Light Extraction Droid is a Capstone Project developed by Quasar Monkeys; students of Swinburne University of Technology.
Install instructions
Thank you for downloading out game! This game was built using the Unity Engine and can be run as an executable once it's been downloaded. Unfortunately we don't have a working build for MacOS or Linux, but you're welcome to try the WebGL Demo build here on Itch.io